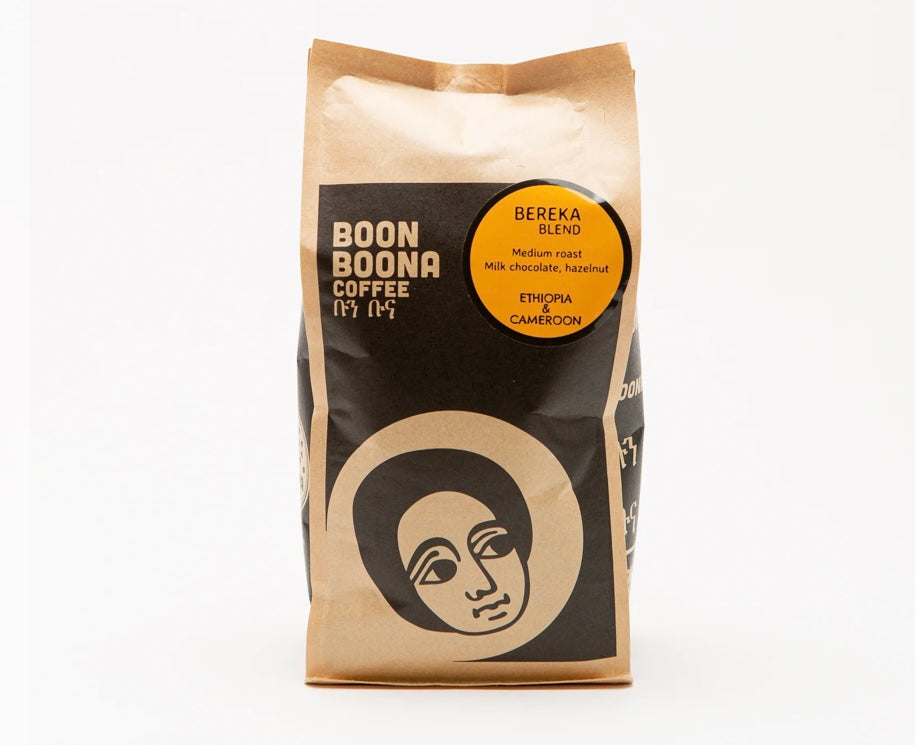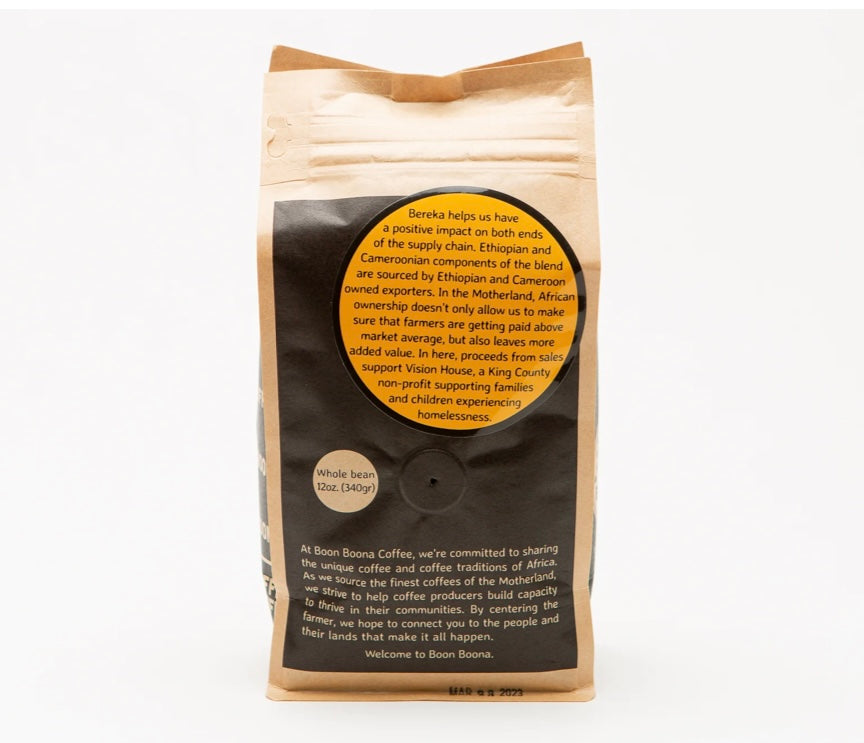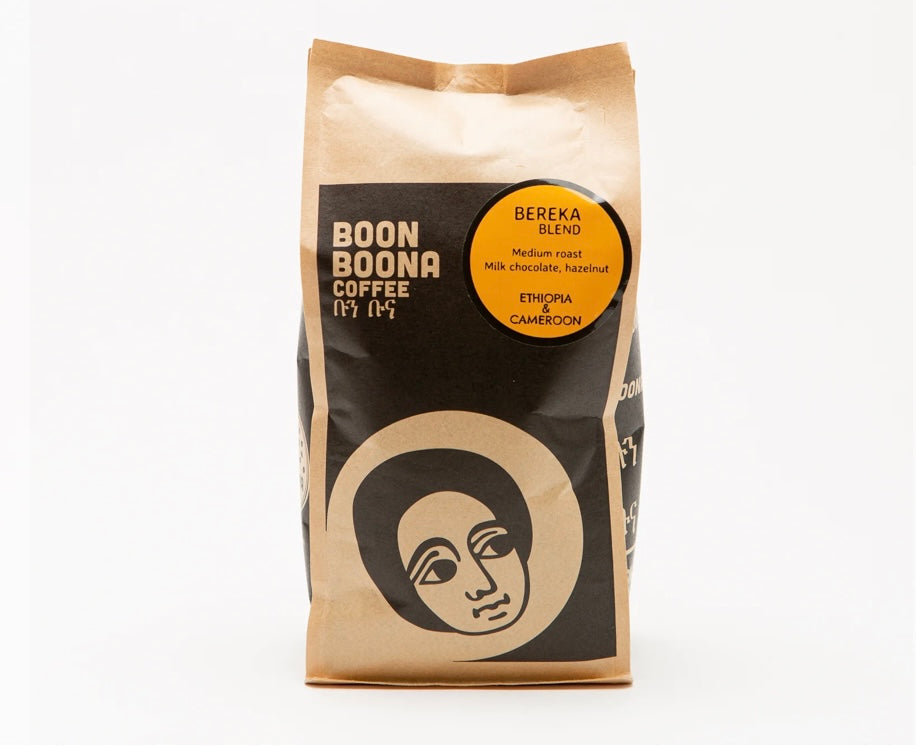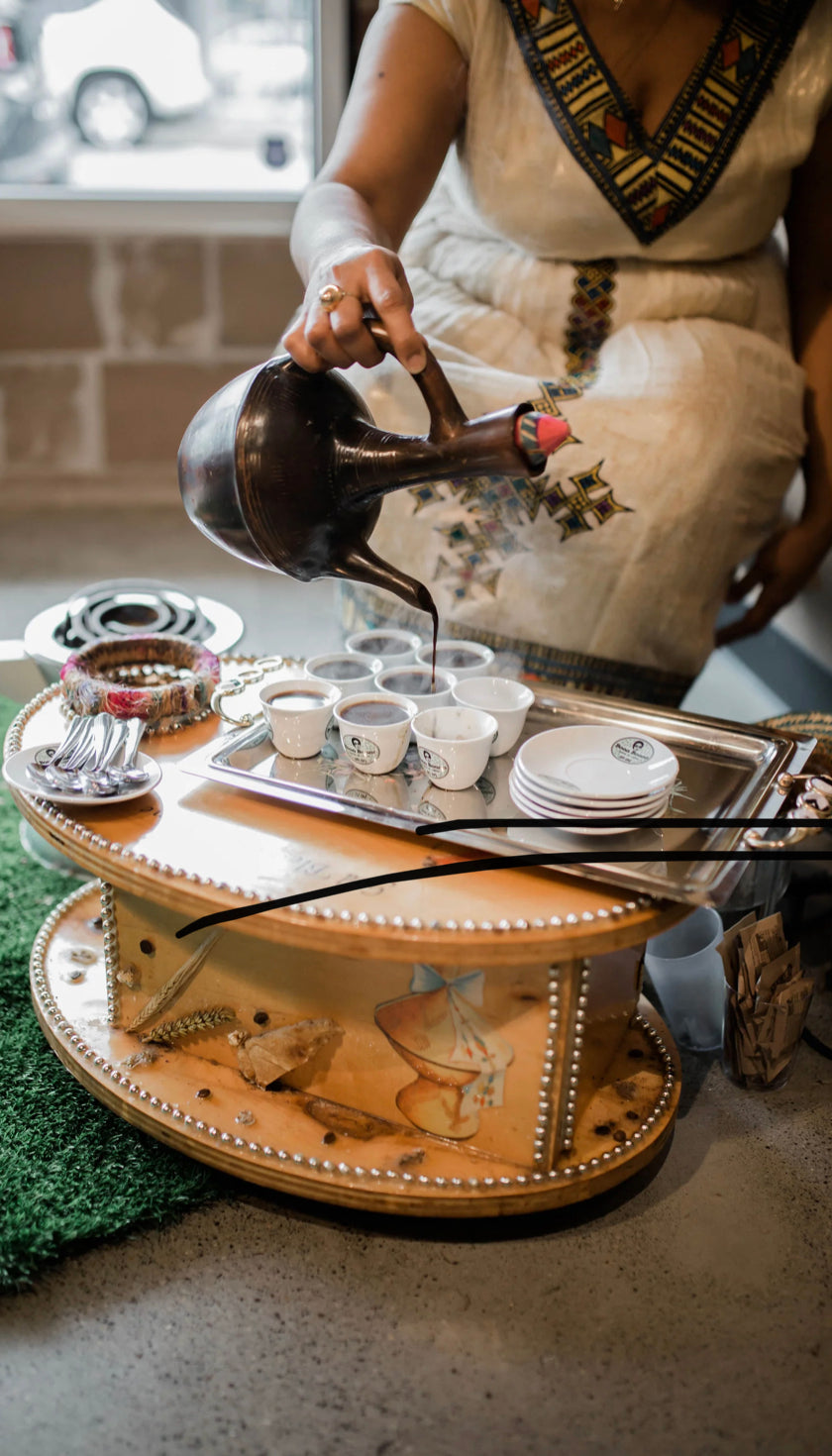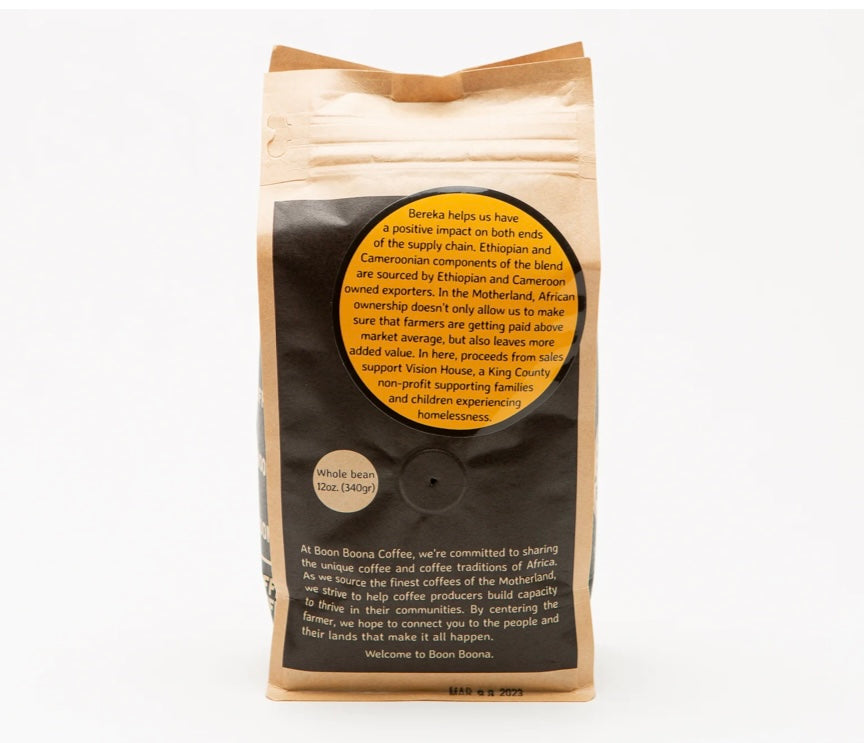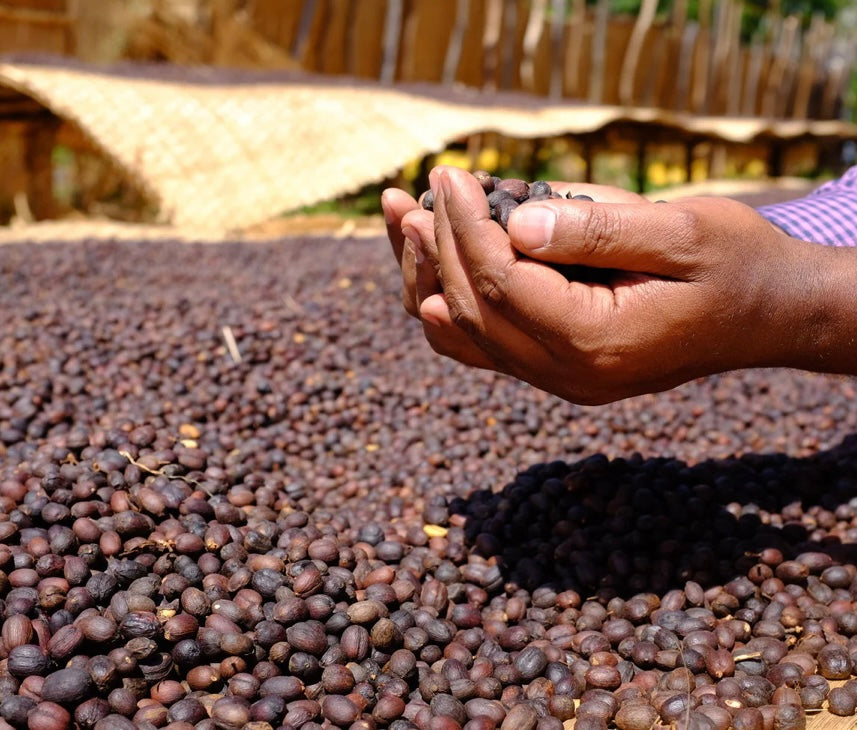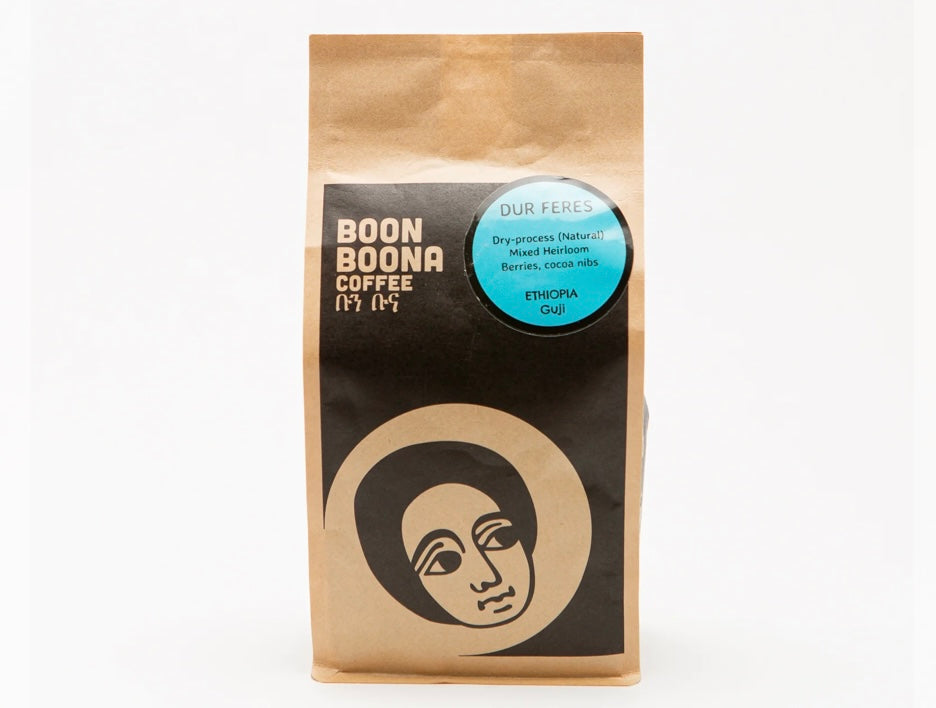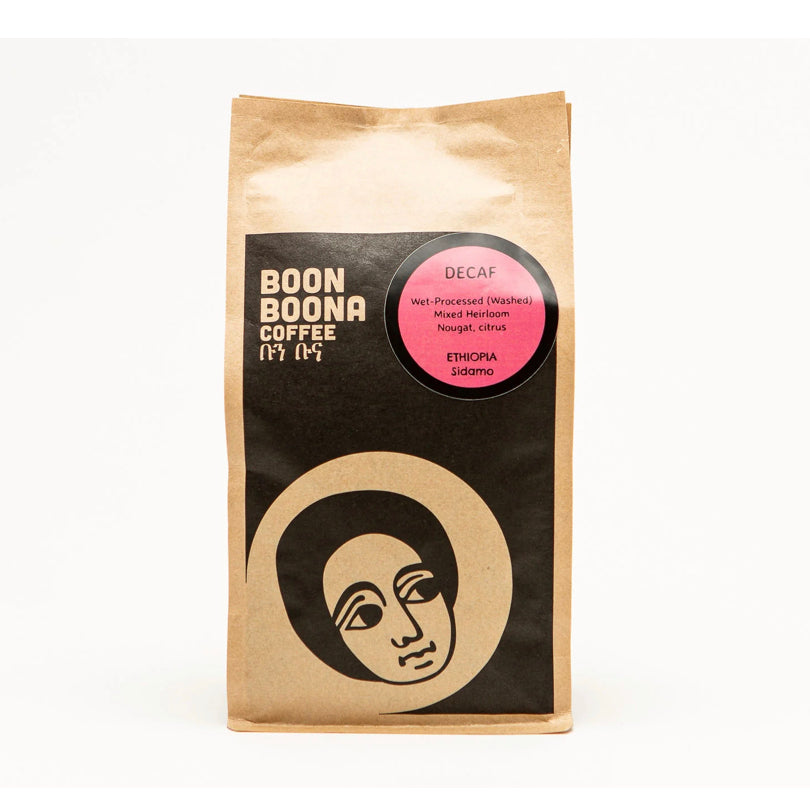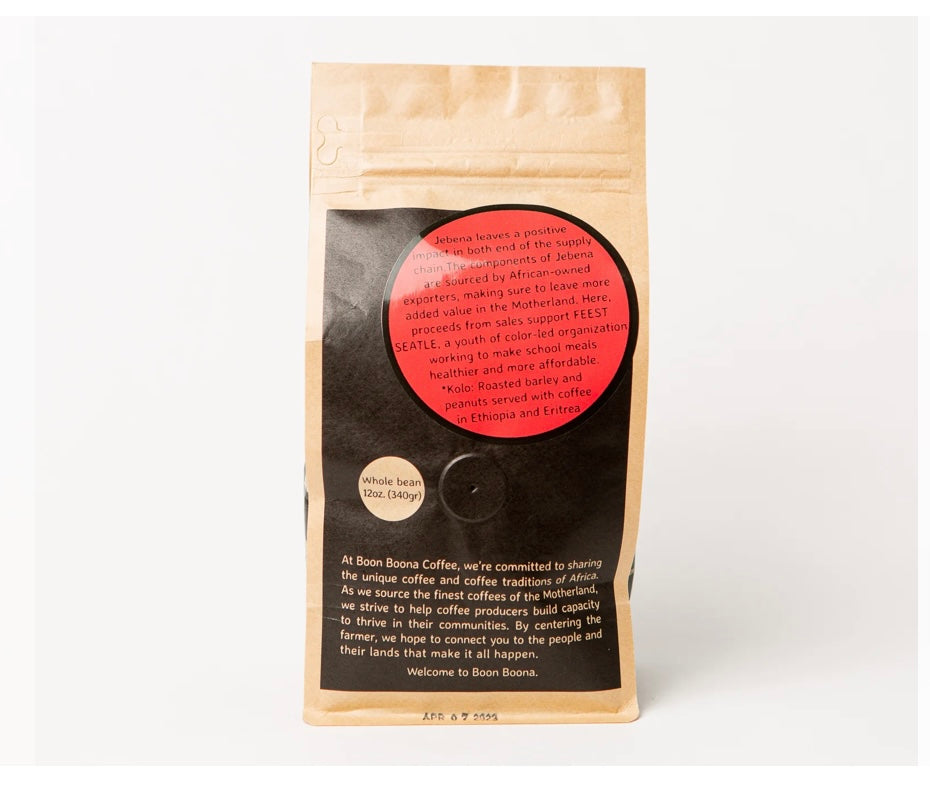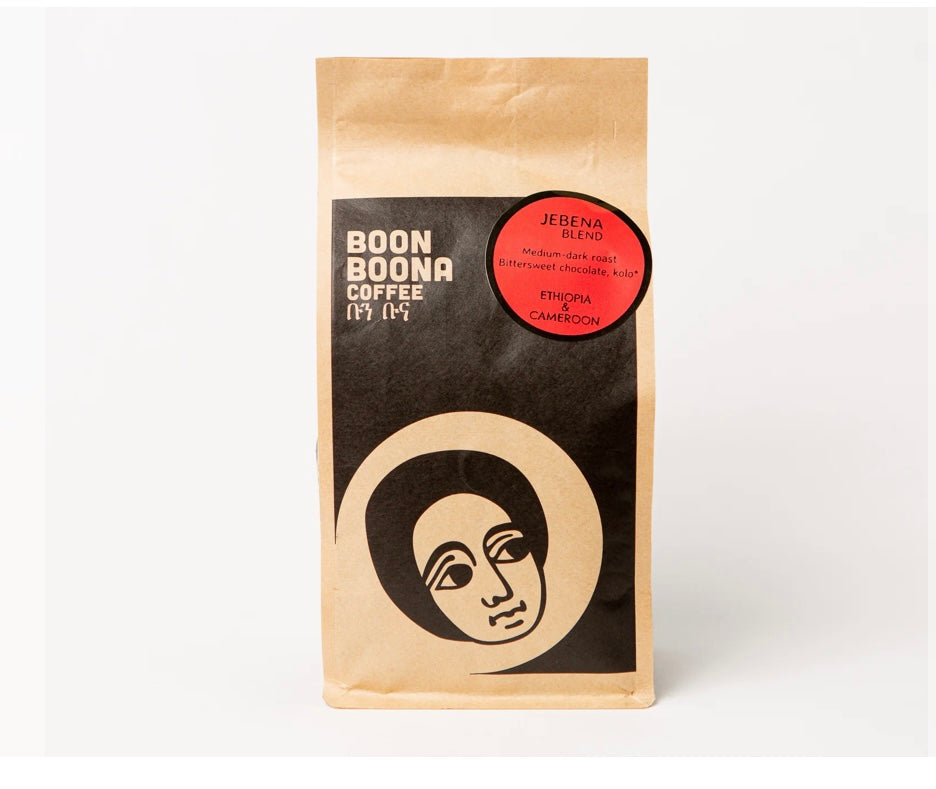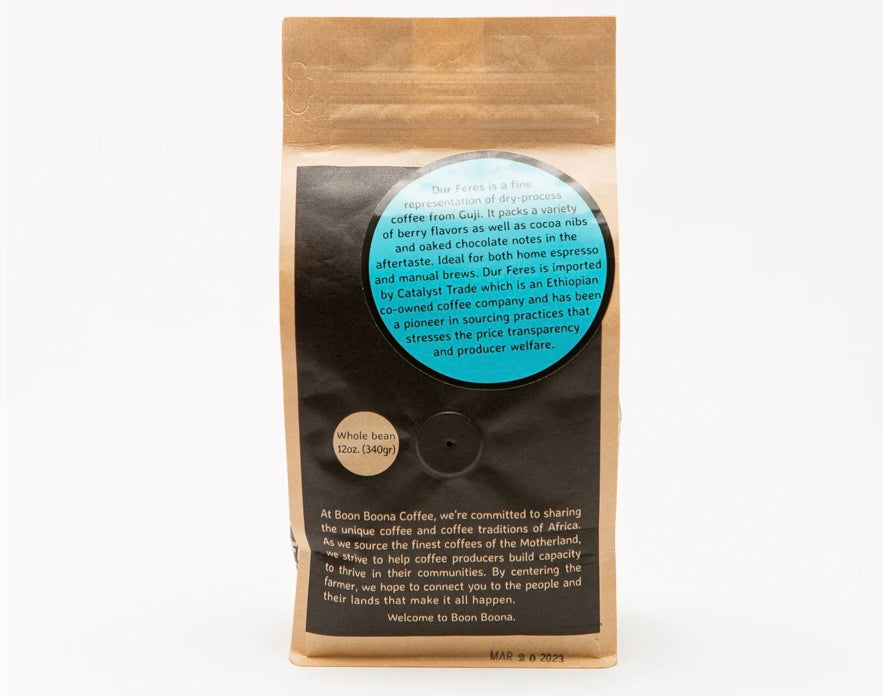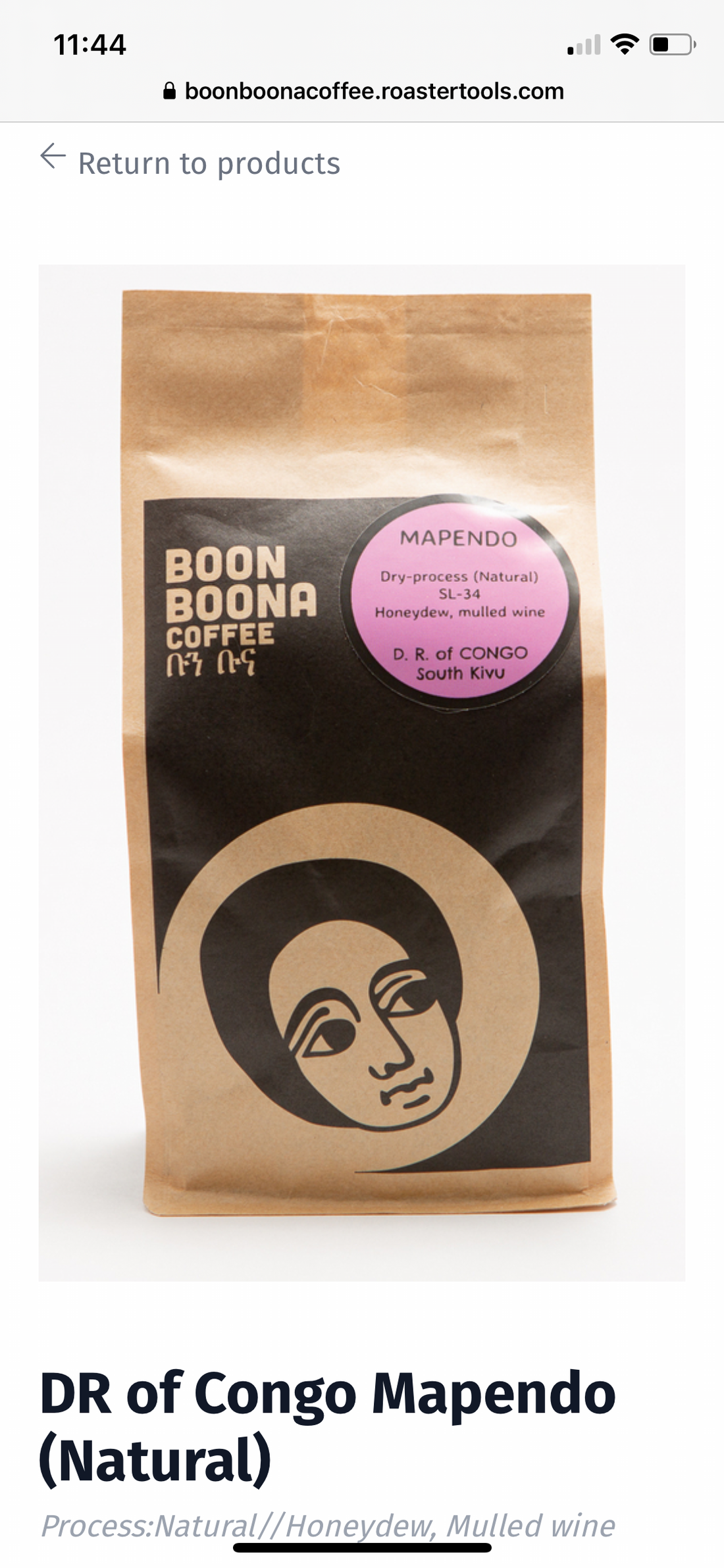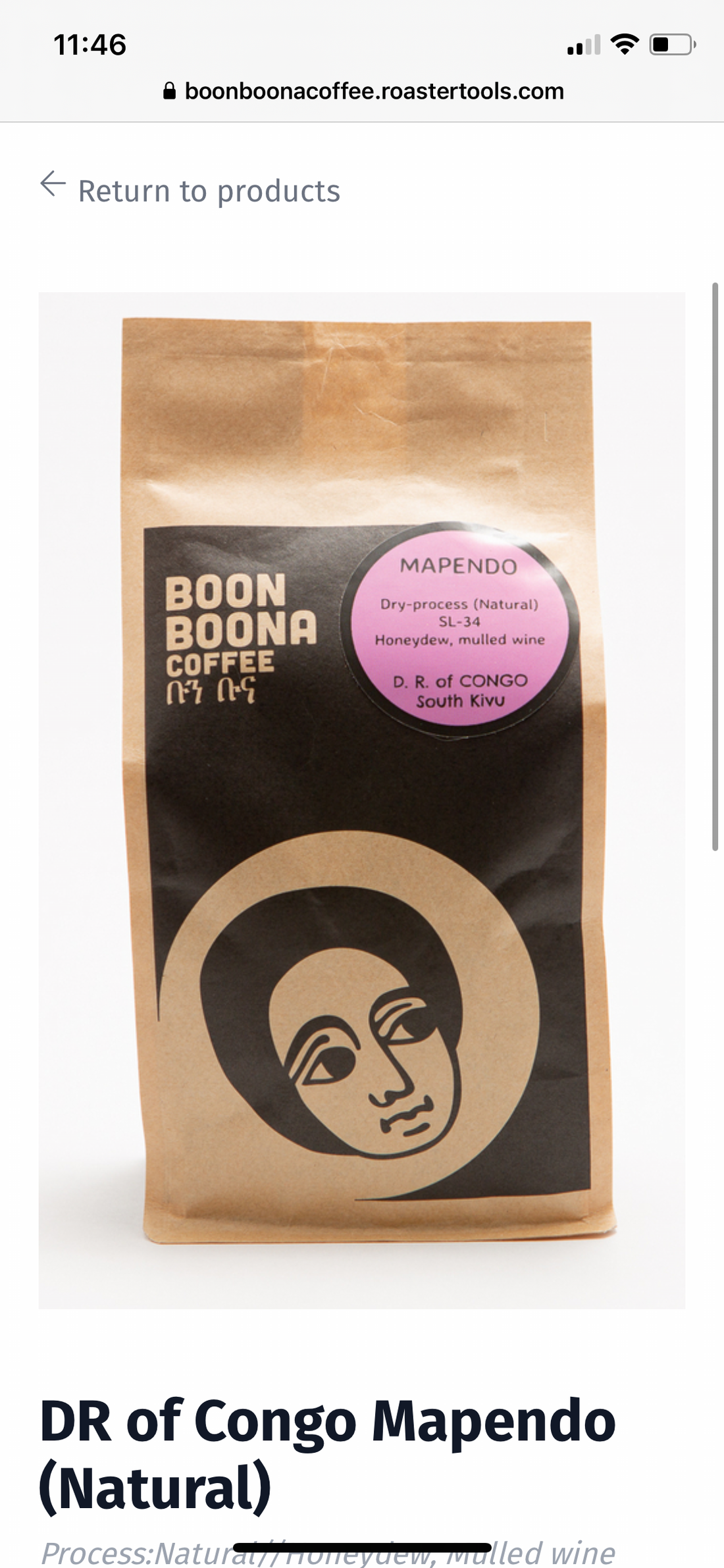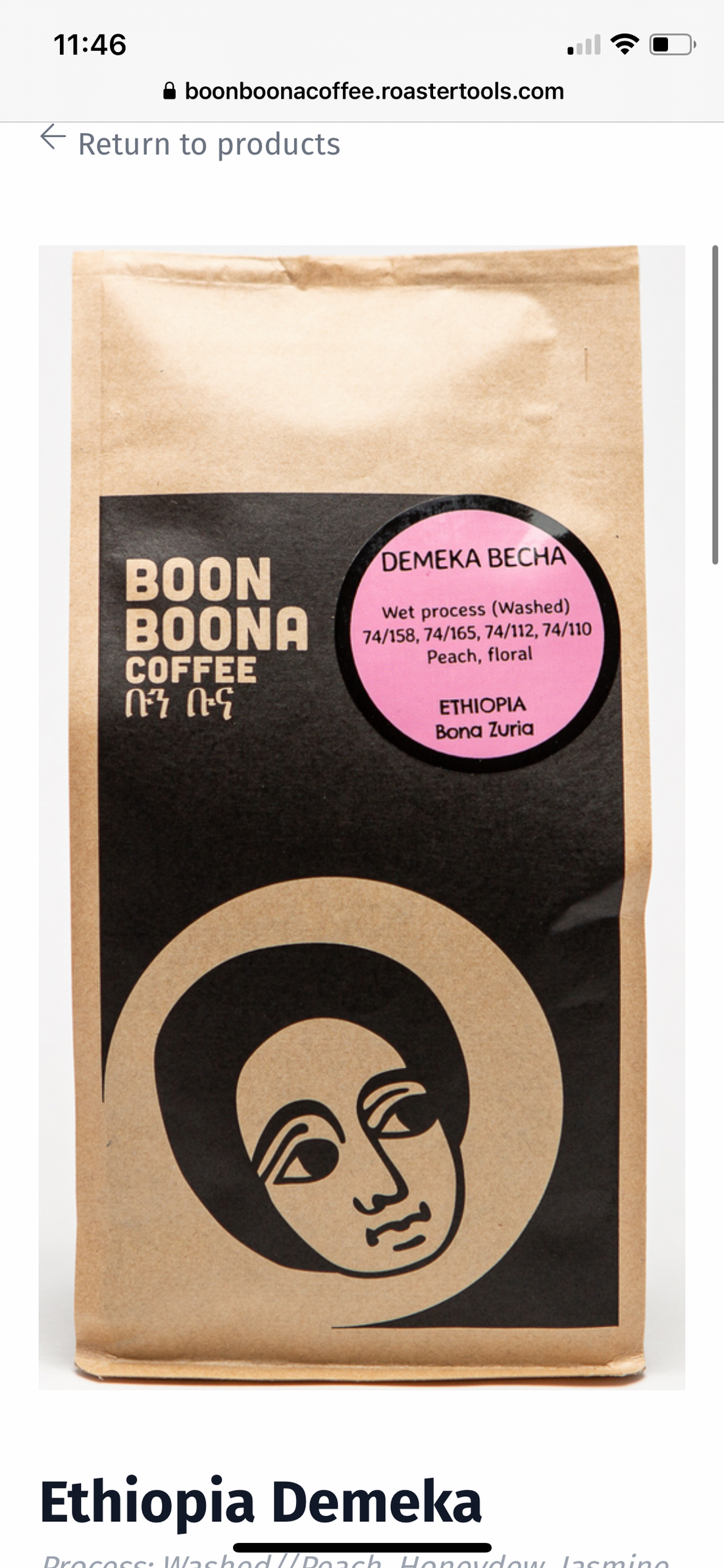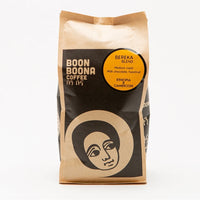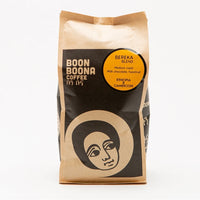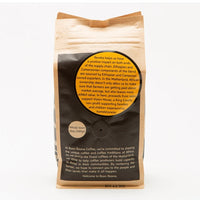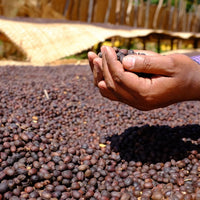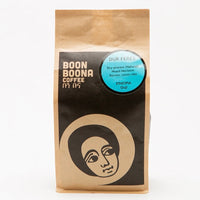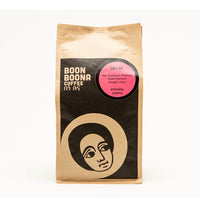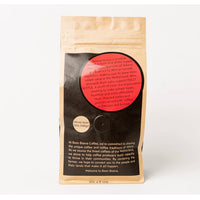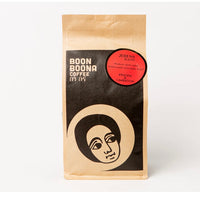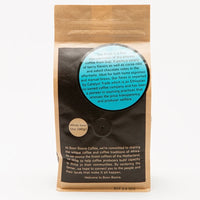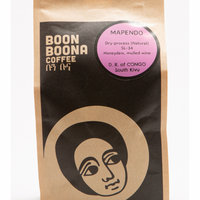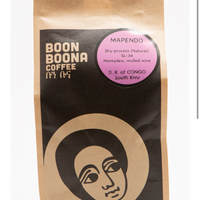 BEREKA (Medium Blend)
Bereka is our medium roast blend curated with organic-certified beans from Ethiopia and Cameroon that support sustainable agriculture and healthy food systems. Bereka is an important art of the East African coffee ceremony that is associated with creating strong and warm social ties. We roasted the blend to represent this kind of connection with our community.
Bereka has notes of warm baking spices like cinnamon as well as a welcoming cane sugar sweetness with a creamy body. Bereka makes great espresso and cold brew. It is also at home with manual pour-over methods and immersion methods like french press. Choose your adventure!
What does "Bereka" mean?
Bereka means "to be blessed" in Amharic and represents both the celebration of life centered around the East African coffee ceremony. This ritual is the fabric of all social gatherings, from celebrations to mourning, and we are proud to honor this tradition at Boon Boona.
JEBENA (Medium-Dark Blend)
Jebena is a blend of organic Ethiopian & Cameroon beans supporting sustainable agriculture and healthy food systems. Jebena's roast profile is developed to honor the traditional coffee ceremony of East African communities. It's customary to take this roast to higher temperatures with longer roast profiles to have a fuller body and bittersweet flavor notes.
In Jebena , you are going to taste flavors reminiscent of dark chocolate, caramel with a lasting sweetness and a full body. Jebena tastes great with batch brew methods, chemex, french press and also on espresso for those looking for bolder flavors in their espresso.
What does "Jebena" mean?
Jebena is a traditional Ethiopian and Eritrean coffee pot made of pottery most commonly used in the traditional coffee ceremony. The coffee ceremony is the way that many East African peoples enjoy their daily coffee. It is the fabric of all social gatherings, from celebrations to mourning, and we are proud to honor this tradition at Boon Boona.
Dur Feres
We could not be more proud to be the first roaster to offer Dur Feres in greater Seattle area. It is created and sourced by Catalyst Trade who has been specializing in Ethiopian coffee with investors and stakeholders in both Ethiopia and USA. Their transparent coffee trade platform and meticulous sourcing model assure that more of the added value stays in Ethiopia.
Community Lot is one of these value-driven sourcing models. It is a multi-faceted program that helps farmers sell a significantly larger part of their harvest. Ethiopia is full of high-scoring coffees, and it is easy to source top a top-shelf coffee that scores 88+/100. However, these kinds of beans usually has a small share in the whole harvest. Once these top-shelf coffees are sold, the producers end up with hundreds bags of quality coffee. Even if top-scoring coffee has better profitability, the farmers need to sell most of their harvests to be able to make a fair living. Community Lot solves this problem. Catalyst Trade works with producers around the country to curate a specialty-grade blend. These blends are curated using coffees from various regions of Ethiopia as they come ripe. This allows Catalyst Trade to keep a fresh crop supply, helps farmers optimize their sales and income, and gives roasters the consistency that they can build their sourcing programs upon. This is one of the effective ways to source coffee responsibly!
Dur Feres means Wild Horse in Amharic and is Catalyst Trade's flagship community lot. It has the same level of tractability as their top-shelf offerings, is organic certified, and maintains a steady favor profile. Furthermore, the washing stations that provide coffee for this blend are operated by the company's Ethiopian shareholders.
When we sip Dur Feres, we taste blueberries up front and cacao nibs in the finish. It has a round body with medium acidity and a lingering finish. We love this coffee and the people who have make it happen!
Sidamo
We have a new and freshly decaffeinated coffee from Sidamo region: Mullege. SUCAFINA has been building relationships in Ethiopia for over a decade and Lalisaa is their most recent project that is geared towards the community empowerment. Mullege is a dry-processed Sidamo regional blend and it was decaffeinated in July '19 in Swiss Water Process' headquarters in Vancouver, BC. It has citrus freshness and acidity with a nougat finish and full body.
Mapendo
DR of Congo Mapendo (Natural)
Process:Natural// Honeydew, Mulled wine
Mapendo is Swahili for
"love". Linda
Mugaruka, agronomist and Mighty Peace Coffee's (MPC) Chief Quality Officer, ensures that MPC produces loving and award-winning coffee while abiding by the highest environmental & labor standards. One of her curations, Mapendo is Organic & Fair Trade certified, and is farmed by 4,200 farmers, nearly 40% of whom are women. Mapendo makes a sweet and tangy cup with a subtly tannic aftertaste on a pour over methods.
When brewed as espresso, it offers syrupy body coated with jam sweetness and citric acidity.
Demeka Becha
Process: Washed// Peach, Honeydew, Jasmine
Demeka Becha site is situated at the top of a hill in Becha village in Bona Zuria, which is ideal for air
flow along the drying beds. The Demeka Becha site is owned and operated by the family of Ayele
Tulu, his wife Genet Haile Endeshow, and their son, Tsegab Ayele.
They buy cherries from nearby communities including Dilla Suke, Demeka, Goacho, Becha, and
Bashiro Dale-close to 10,000 producers are situated in the areas surrounding the washing station.
Producers bring their cherries to be weighed on the blue scale, logged in the book by Alemu Gobaro
(general manager). Once accepted, cherries are floated for density sorting before being dumped
into the cement hopper to begin the journey through the 4-disk Agard pulper and into fermentation
tanks and cement washing channels. There are 10 tanks for density grades 1 and 2, and 2 tanks for lower density coffee.
Following fermentation and washing, the parchment coffee is carried by hand to the drying beds
where laborers spread it out to the depth of a fingertip and keep it turning until it is dried and
moved to the locked storehouse to await trucking to Addis Ababa where they are dry milled before export.
This year we booked Lot 90/02 from Demeka Becha. The lot carries notes of stone fruit such as
peach and apricot as well as honeysuckle. The lively acidity helps highlighting the floral notes which
may remind you of bergamot, lavender or grapefruit-peel depending on your mood.
PRODUCER
Producer: Small holder farmers from district of Bona Zuria
Region: Bona Zuria, Sidama Local People Group Name: Sidama
CULTIVATION
Variety: 74/158, 74/165, 74/110, 74/112, and 74 40
Site Elevation: 2155 masl
Farm Elevations. 2100 to 2200 masl