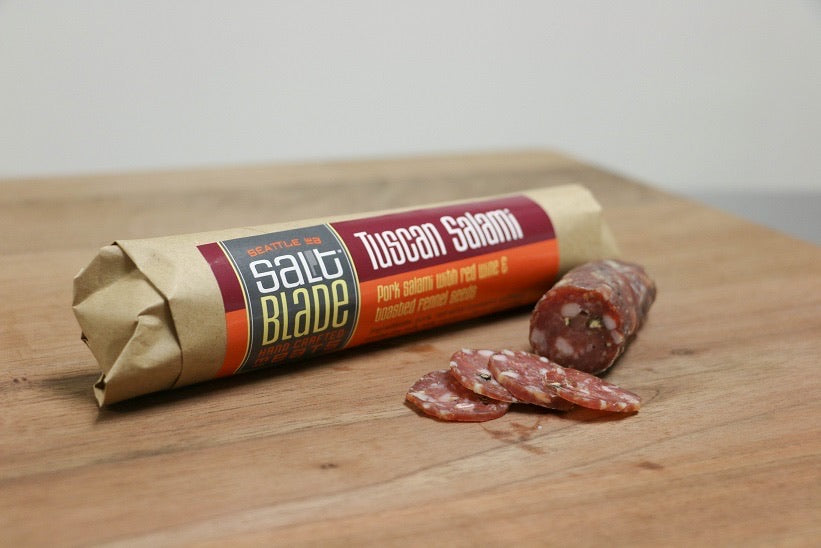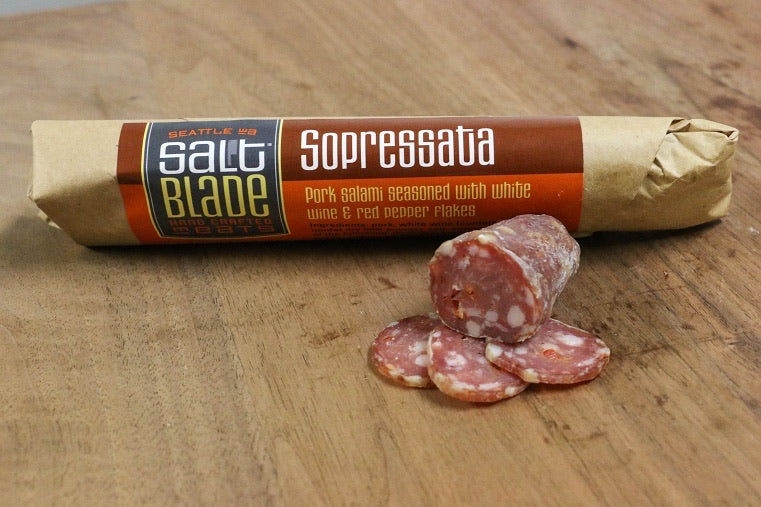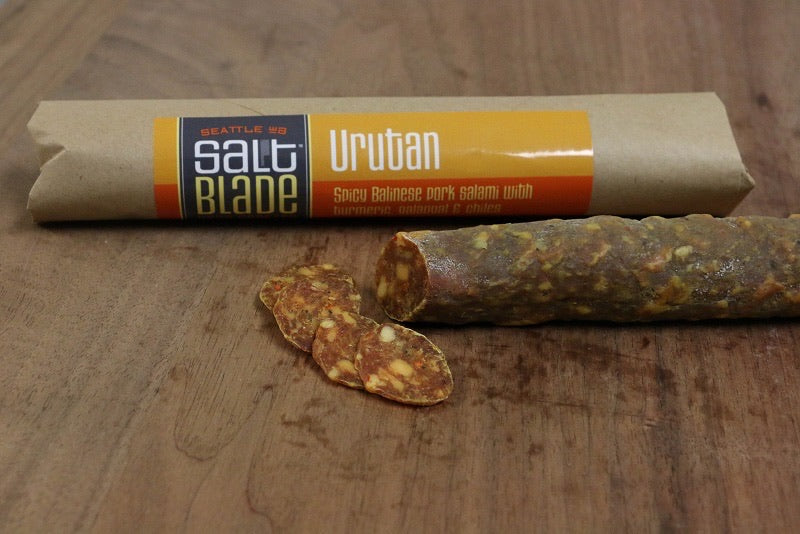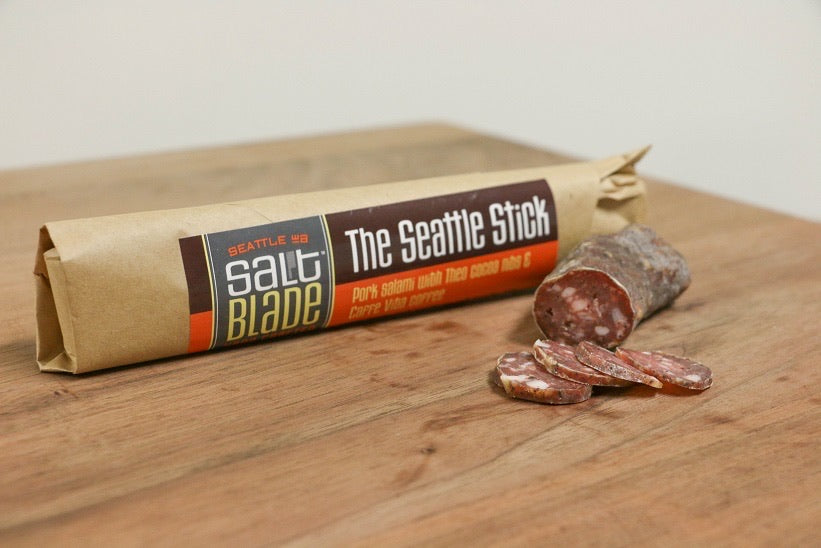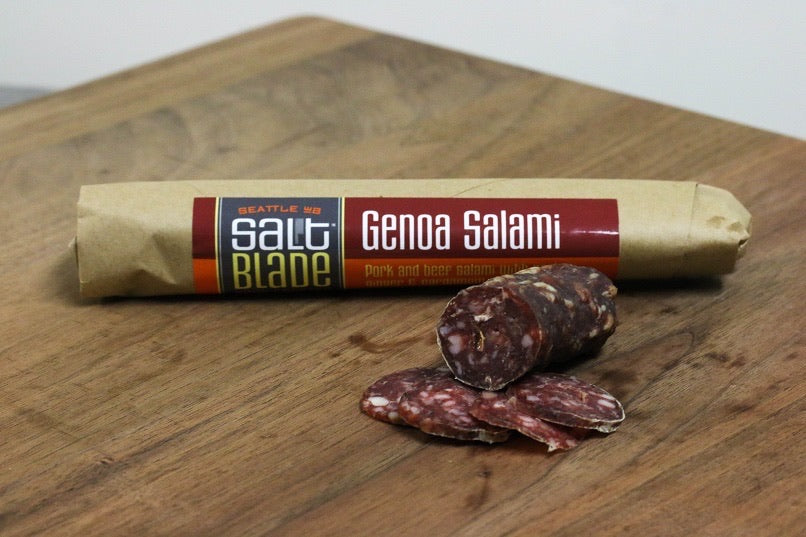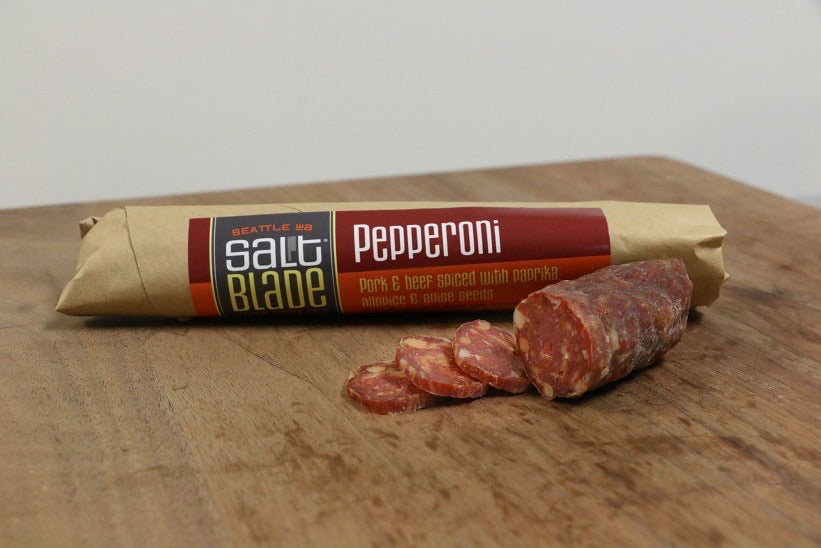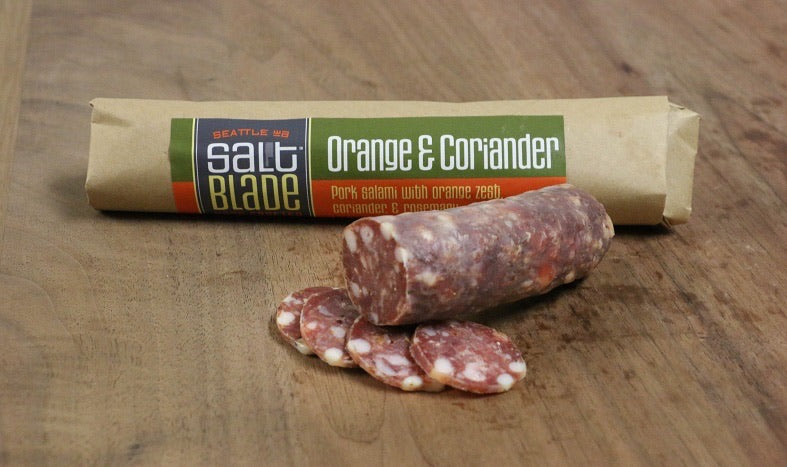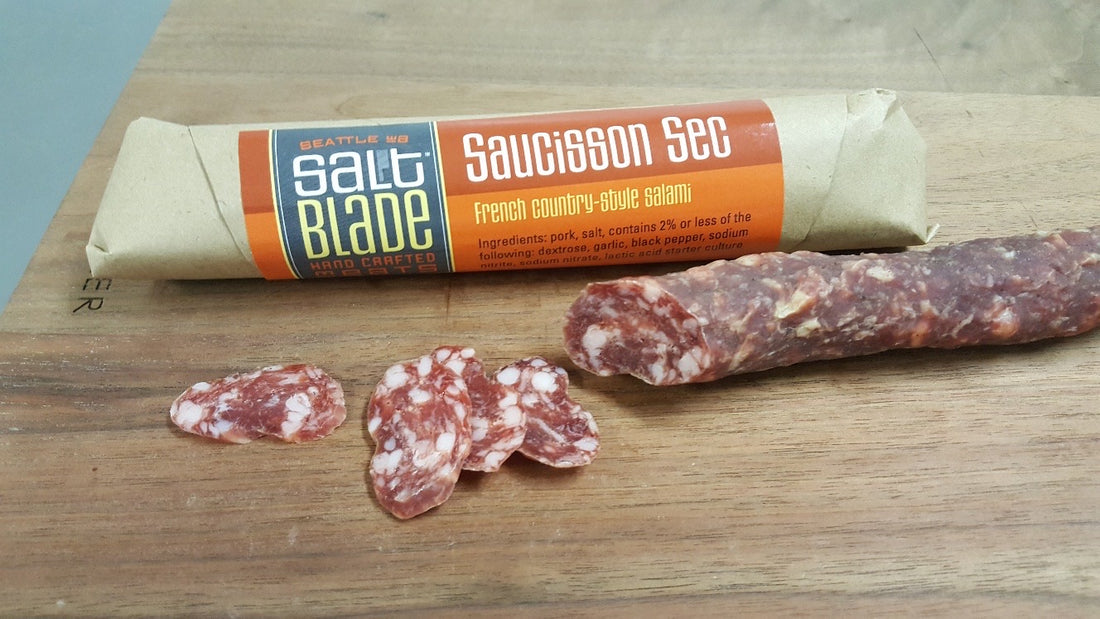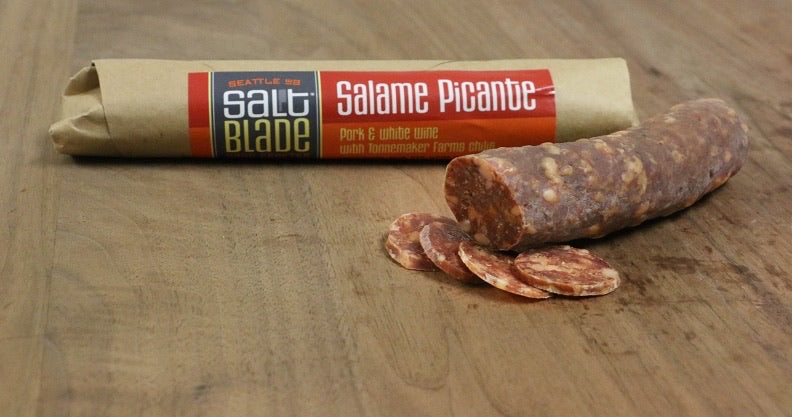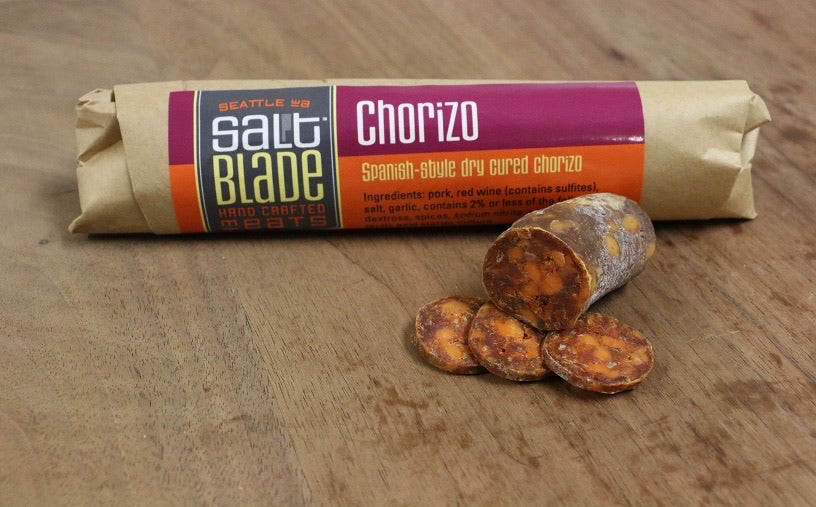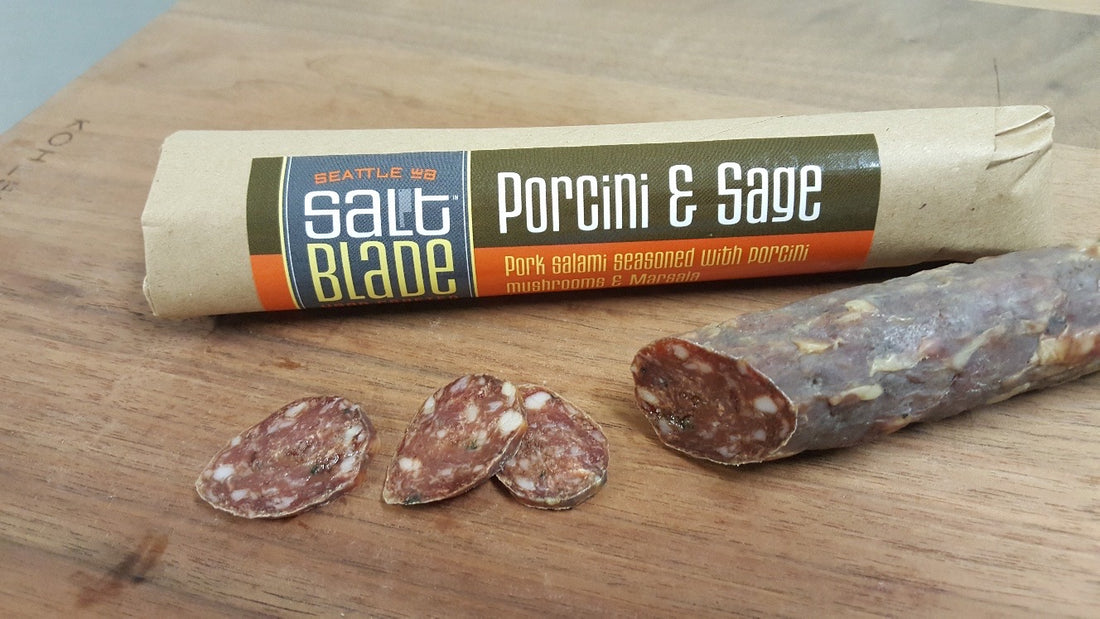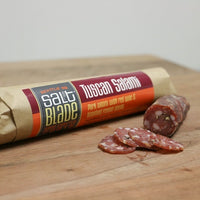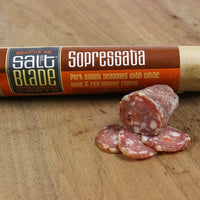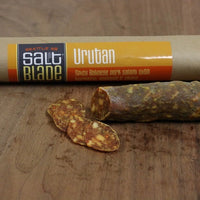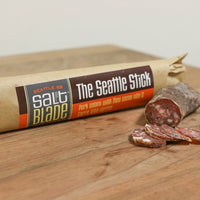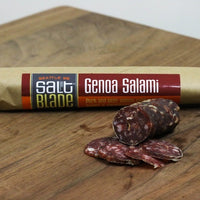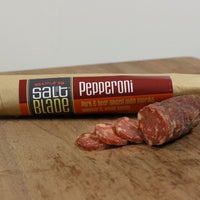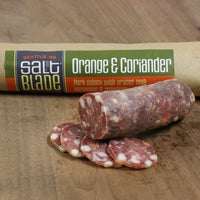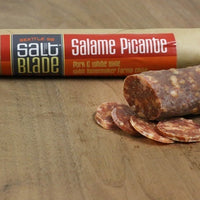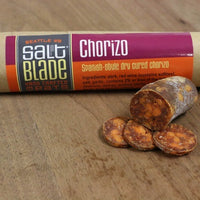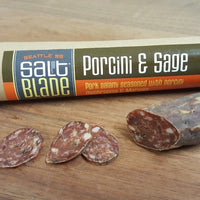 Salt Blade Hand Crafted Meats
Salt Blade creates small batch cured meats in their USDA-inspected production facility in North Seattle.  All the meat they use comes from Olsen Farms in Colville, WA.  All products are sold in 3.8oz sticks.  11 to choose from!
Tuscan Salami-Simplicity at its finest!  Pork salami with toasted fennel seeds, garlic, red wine, and black pepper.
Urutan-Our spicy Balinese all-pork salami. Packed with galangal, ginger, garlic, chilis, and turmeric!
Sopressata-Another Italian classic: pork, white wine, red pepper flakes, and white pepper.
The Seattle Stick-Theo cocoa nibs and Caffe Vita coffee make this all-pork salami a celebration of responsible sourcing. Coffee and chocolate may sound like a strange additive to pork, but the end result has gathered a base of ardent supporters!
Genoa Salami-A mild Pork and Beef Salami seasoned with cardamom, garlic, and ginger!
Saucisson Sec-This French-country style Salami is their most stripped down offering.  A hint of Applewood smoked salt and a light touch of garlic and black pepper allow the high quality pork from Olsen Farms to shine!
Orange and Coriander Salami-Orange zest, toasted coriander seeds, and a hint of fresh rosemary make a bright and fresh tasting all-pork salami.
Pepperoni-A tribute to Americana, via Little Italy. As good on a cheese board as it is on pizza.
Porcini and Sage Salami-Originally a fall seasonal, this earthy salami made with porcini mushrooms and sage has become a year-round staple!
Salame Picante-their twist on the Calabrian classic uses locally grown chilies from Tonnemaker Farms. They use Cherry Bomb, Aji Negro, and Cayenne to produce a balance Salami with a slow burn!
Chorizo-Heavy with Pimenton de la Vera, our Spanish-style dry-cured Salami is at home with Manchego, olives, and a glass of Tempranillo!
 https://local-yokels.com/products/salt-blade-hand-crafted-meats